British Bulldogs was formed on October 23rd 2015, opening with the five founding members that founded the MC and raised it as their own.

Founding Members;
SmithyRules
DuckONaSk8board
NeuralRapier
Wijj Eclipse
Catalysm
​
We take our pride in making the club, the best that it can be, riding alongside our brothers with sisters saddling on the back is what it is, we hope that you too join us on the road. The Road To Glory.
​
Our clubhouse is situated near Sandy Shores, that's all you need to know about it.
​
---
Powered by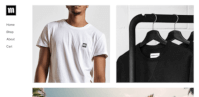 Create your own unique website with customizable templates.